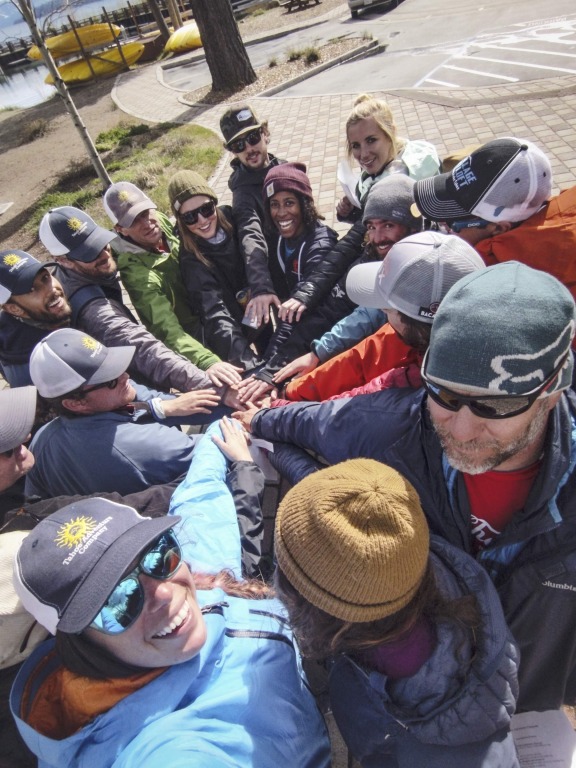 Inspiring High Sierra Adventures for 20 Years!
Category:
20 Years of Human Powered Adventure!
We are celebrating a big milestone by giving away 20 free adventures
Tahoe Adventure Company is celebrating 20 years in business this year. To mark the occasion we are giving away 20 free adventures – including everything from our exclusive Thunderbird Lodge tour to sunset snowshoe walks and SUP rentals.
It all started back in 2003 when Kevin Hickey – a man with a van, a few kayaks and a vision, decided to launch his own Tahoe outfitting outfit. "I had been guiding a lot of youth education tours, living on the road, and I just wanted to put down some roots," says Kevin. "In the beginning, I did everything. I answered calls, I guided the trip. But by the end of that first year I knew I was onto something."
Shortly after launching, Kevin brought his soon-to-be-bride, Katie, onboard. The business quickly grew, along with their family. TAC is truly a mom and pop shop, and our strong family values are at the heart of the operation. "Alongside growing TAC, we have been raising our two children as well," says Katie. "As toddlers, they sorted first aid kits, clip boards and waivers; then counted shirts and now they file and shred. Our teenage daughter can't wait for the opportunity to manage social media!"
A big part of those strong family values has been making sure that every guest learns a little something about the natural wonders of Tahoe. The ultimate goal is that every visitor falls in love with the area and becomes an advocate for the conservation of the natural resources that make Tahoe such a magical place.
To that end, we also offer week-long outdoor education programs for school groups. "It has always been very important to me that people learn something about this amazing place while they're here," says Kevin. "There's a lot of natural human history in this area and we like to make sure the guests get a taste of that."
A lot has changed in the past two decades. A single man with a van has turned into nearly two dozen employees and a fleet of kayaks, SUPs, bikes – you name it. Any adventure that is human-powered is on our menu. The goal is for people of all ages – be it corporate team building groups, fun-loving extended families, or a gathering of longtime friends – to learn a little bit about themselves while enjoying all the majesty that Tahoe has to offer.
"These days with so many people working remotely, team building activities are more important than ever," says Kevin. "A lot of times people have never even met their co-workers in person, so we love to get them out of their comfort zones, out of the zoom world, and into the real world. That's how true bonds are formed."
20th Anniversary Giveaway Details
Tahoe Adventure Company will give away 20 different adventures, including equipment rentals and guided tours, via social media. Follow us on Instagram for a chance to win.
Here are a few examples of the adventures our social media followers will have a chance to win.
Thunderbird Lodge – Tahoe Adventure Company is the only guide company that has access to Thunderbird Lodge. After a kayaking 101 lesson, the group will paddle an easy 1.5 mile trek along the shore from Sand Harbor beach to explore the only undeveloped side of Lake Tahoe. Once at Thunderbird, their knowledgeable guides take visitors on an hour-long walk through the Whittel Estate, with stops at the lighthouse room, the old lodge, an underground tunnel leading to the infamous card house and boat house. The tour ends at Dragon's Tail path, past the waterfall and fountain, ending with lunch at the gazebo.

North Shore Kayak Tour – Launching from TAC's beachfront location in Tahoe Vista, take in incredible views of the High Sierra while paddling along pristine shoreline. This tour also includes an introductory lesson on shore. Guides will discuss ecology, geology and other natural and human history topics along the way. Depending on lake conditions, participants will paddle along the shoreline of King's Beach and among the boulders of Crystal Bay or along scenic coastline towards Carnelian Bay while getting a unique glimpse of some of Tahoe's most beautiful waterfront homes.
Share this:
---