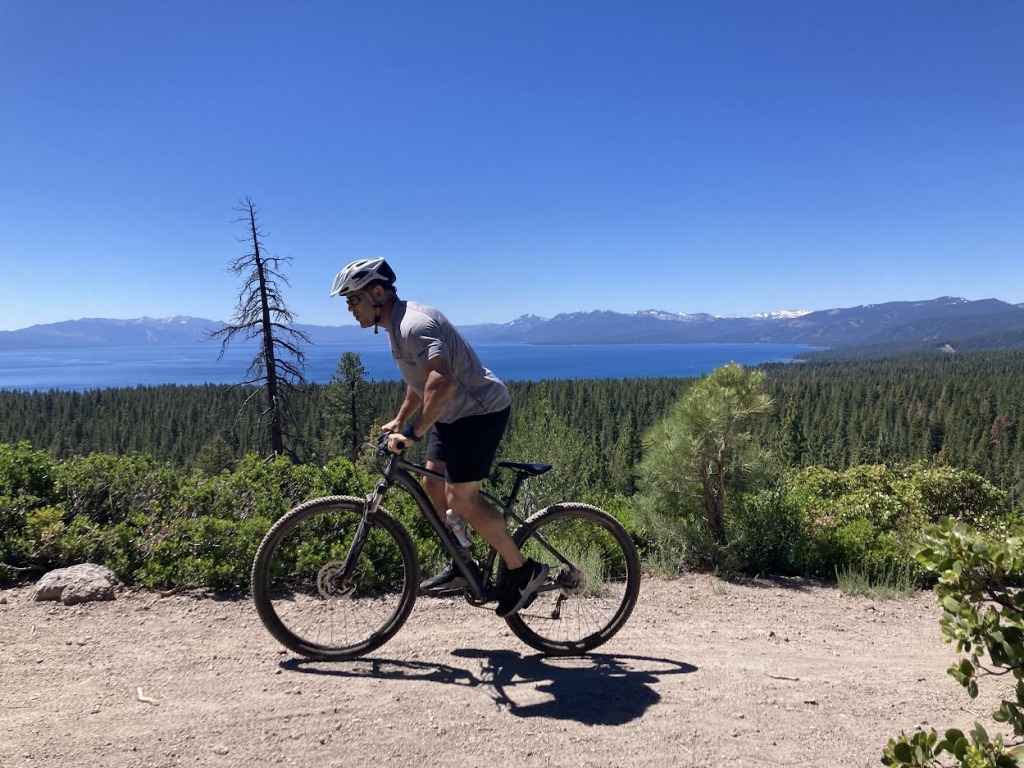 Moonshine Ink: Mission Accomplished
Category:
When Brooks McMullin and Cortney Knudson brought their idea of creating a community bike park before the Truckee Donner Recreation and Park District, they never would've imagined how it would grow and evolve over the next decade.
"Brooks and I had been in Sun Valley [Idaho] and we were like, 'Wow, they just got a pump track. Why don't we have one?'" Knudson recalled.
Twelve years after the first phone call to TDRPD was made on July 3, 2010, the park is a long way from its humble beginning as a pump track, with features for every ability level and encompassing 12 acres off Joerger Drive. The third and final phase was recently completed — just in time to kick off the park's 2022 season.
"The permitted plan for the 12 acres is now built out, but the bike park is not finished," Knudson said.
"The bike park will never be finished. It's like a ski area. Things get weathered over time and fall apart, and you have to fine tune and revamp and re-edit lines."
Throughout the years, Truckee Bike Park has gained a far-reaching reputation not only for its varied terrain, but also for its meticulous upkeep.
"We've been told that this is the only park with a heartbeat," Knudson said. "People come here from all over. It's beautifully maintained. It's always in great shape. A lot of places will build a park and then they get abandoned … when you go through and you visit [other] parks, they will never be in the beautified shape that this is."
As riders themselves, Knudson and McMullin are constantly editing the terrain and thinking about what can be better or changed.
With its beating-heart energy, the Truckee Bike Park has become a living thing, breathing life into those hitting the dirt to shred brown pow. The brains behind the life force are Knudson, McMullin, and Olympic Valley-based Biking for a Better World, of which McMullin is executive director. All funding for the Truckee Bike Park is raised through this 501(c)(3) nonprofit, in partnership with the TDRPD, which holds the lease, and the Truckee Airport and Sanitary districts, both of which provided the land.
"It started a passion project 12 years ago for both of us, not knowing where we were going with it and the capabilities of how far we could take it," Knudson said.
The park has evolved into much more than the pump track it began with. With 50,000 riders rolling through annually — a number estimated to have grown to over 70,000 since the onset of the pandemic — the park attracts people far and wide, all ages, all walks of life, who share a common love of two wheels. During summer, it's not unusual for as many as 400 people to hit the dirt on a given day.
Matt Medeiros is one of those. He has been hitting bike parks across the U.S. and Canada with his 13-year-old competitive rider son, Christian, for the past four years. But it's the Truckee Bike Park that always stands out.
"Every time we come here, there's something new here and it's just amazing … you can have so much progression here," said Medeiros, adding that a lot of the parks he's been to are more mellow and tend to dumb down their lines. "The fact that you can't get bored here because … these little kids are gonna to start on these little lines, and then they're gonna grow up and become teenagers and they're gonna go to the middle lines, maybe even the pro lines. But the pro lines are so good that they're gonna continue to want to come back here, and that's one of the reasons why we really love this place."
For 14-year-old Wyatt Sigur of Santa Cruz, it's all about the varied terrain that the Truckee Bike Park offers.
"It has, like, the biggest variety of jumps … It has dirt jumps and mountain bike jumps and technical trails and flowy trails. And just how well the jumps are built is just really amazing," he said. "I've been to some other [bike parks] in California and this one, definitely is, like, one of the best out of all of them."
Witnessing the excitement and progression of some of the younger rides is one of the most rewarding things about the park for McMullin, especially in the more aggressive recently completed section.
"Our new slope line is unreal. It is probably best line at the park. It is so friendly. The slope zone is like no other," he said. "We have little groms (biker lingo for the younger riders) working on the line, I hear them say, 'I got to hit the whale tail!'"
McMullin said many features at the park are foreign to a lot of riders, particularly with the groms' progression to new lines like Stay Another Week and Runway 2-6. "Our LittleBIG slope event was so spectacular," he said of the annual Little Big Bike Festival and Skills Clinic that was held in June. "Seeing all the progression and where is this happening in the U.S. — nowhere but Truckee, CA!"
While its terrain challenges riders, the park itself has faced its own obstacles when it comes to funding. Built through private donations, grants, and fundraising, "Truckee Bike Park needs to continue donations to keep the park what it is currently," Knudson said.
With an annual budget ranging up to $150,000, each spring it requires around $120,000 just to get the park up and running, especially following the harsh conditions of Tahoe winters. Year-round, Knudson and McMullin can easily spend upwards of 25 to 30 hours a week working on their labor of love — on top of their full-time day jobs.
"Once the season ramps up, when we start shovels on ground, it's every day, 50 to 60 hours a week," McMullin said. A dozen years into their volunteer effort, he and Knudson only recently started drawing minimal salaries for their work, but it's not even enough to cover rent.
The pair appeal to guests to give back to the park, which draws people to the area, and ultimately benefits the surrounding area.
"Restaurants, bike shops, the grocery stores, the gas stations … people are coming from all over," said McMullin, noting that the tourist dollars brought in by the park are being put back into the community.
Knudson says that on weekends, eight out of 10 park visitors are from out of town. She sees the park as a melting pot where folks can come together with a shared common interest.
In the end, it's about having fun. Over the years, Knudson and McMullin have seen great growth in the number of families using the park together, with a noted increase in moms deciding to be part of the action and getting on bikes to ride along with their kids.
"The park here is for everyone. It's for every financial level, it's for every skill level," Knudson said. "It doesn't matter your religion, your skin, your skill, or what's in your pocket because it all comes down to two wheels."
Juliana Demarest is a Jersey girl with ink in her blood. She fell in love with print journalism at a young age in the '80s when her Uncle Tony would take her to "work" at his weekly paper. In 1997, she co-founded a weekly newspaper in North Jersey. One day, she went to photograph a local farmer for a news story. She ended up marrying him and leaving journalism to become a farmer's wife. In 2010, they packed up their two children and headed to Truckee in pursuit of the outdoor life. She didn't realize just how much she missed journalism until she joined Moonshine in 2018 after taking time off to be mom. Connect with Juliana juliana@moonshineink.com
Share this:
---