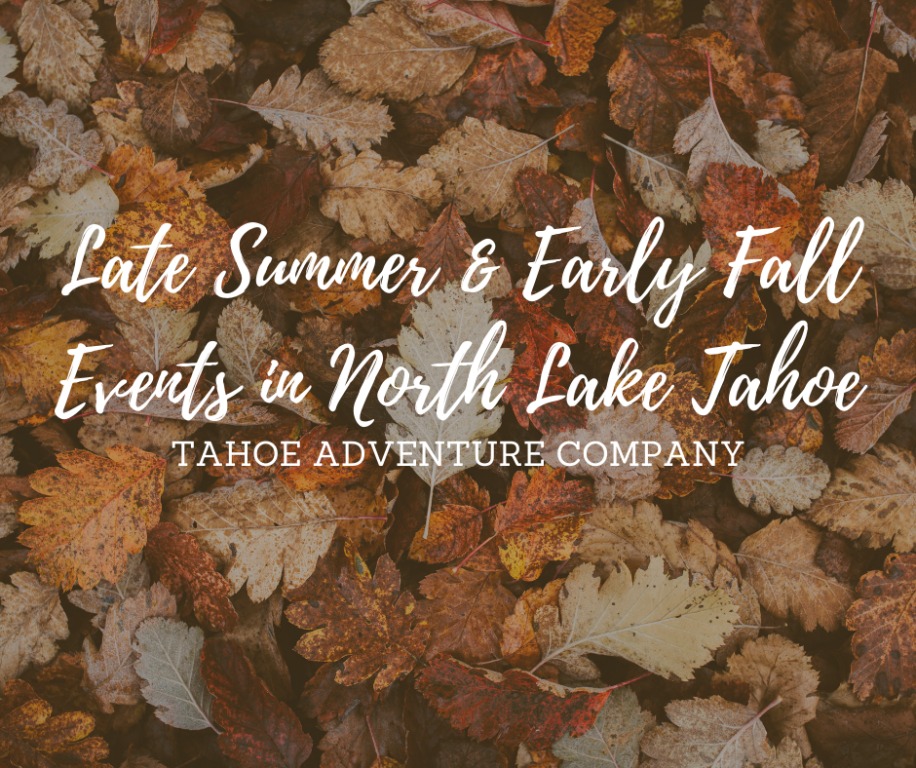 2022 Late Summer and Early Fall North Lake Tahoe Events and Festivals
Category:
Art by the Lake Festival - August 19-21 - Tahoe City
Hosted by Pacific Fine Arts at Tahoe City Boatworks Mall, this 3-day arts festival features over 30 artisans and their stunning works. This open-air market sits right by the lake, offering beautiful views in addition to the beautiful artwork you can peruse and purchase. There will also be live music 11:30-4pm every day, and Mirada mexican restaurant from the Boatworks Mall will be selling light bites and a fresh-squeezed margaritas for the art show patrons!
Truckee Rodeo - August 26-27 - Truckee
For just $17 (adults) / $10 (children), come see a variety of rodeo events hosted by the Truckee Donner Horsemen and Truckee Pro Rodeo Team, including kid's Mutton Bustin'. If you're unfamiliar with the sport, this is where kids ages 4-8 (helmeted, thankfully) hop on the back of a sheep and ride it until they can't possibly hold on anymore. The schedule hasn't been released yet, but you can likely expect barrel racing, bull-riding, and a queen pageant as well as other rodeo-style events! As always, there will be food, beverage, and retail vendors on-site. On Saturday, there will be a dance in the arena following the rodeo, featuring music by Everyday Outlaw. Get back to your country roots and check out this year's rodeo!
Tahoe Donner Wild West Fest - September 3 - Truckee
Just in case you didn't get your wild west ya-yas out at the Rodeo, the following weekend (also Labor Day weekend) boasts the 3rd annual Wild West Fest at the Tahoe Donner Equestrian Center at Alder Creek Adventure Center, hosted by Tahoe Donner. There will be tons of western-style events, including equestrian performances and a barbecue dinner, not to mention live music by Worn Out Welcome. The event runs from 4:30-7:30pm and is only $15 for adults even if you aren't a member of Tahoe Donner.
Alpen Wine Fest - September 4 - Olympic Valley
This Labor Day wine fest features an all-inclusive tasting from over 40 different wineries for just $40 when you book ahead of time! Waltz around the village at Olympic Valley sipping your favorite pinot in an included Alpen Wine Fest glass, all while supporting the Can Do MS non-profit that provides wellness services for families living with MS. Uncorked Tahoe, one of the best wine shops in the North Lake area, presents the event, which also features two different bands performing from 2-5pm.
Mexican Heritage Festival - September 16-17 - Truckee
Head over to Truckee River Regional park from noon-8pm for a free, two-day festival celebrating Mexican heritage! An event hosted by Arts for the Schools, the weekend will feature a pageant, performances by Vaqueros (cowboys), live music, authentic Mexican food, Mexican artisans and crafts, and traditional games! Come over to celebrate (or learn about) Mexican culture and support local hispanic businesses!
Palisades Oktoberfest - September 17 - Olympic Valley
Always dreamed of seeing Bavaria at its best? We can't help you there, but Palisades Tahoe hosts the next best thing–an impressively authentic Oktoberfest experience in Olympic Valley. Complete with a variety of German beers, Bavarian live music, and a series of keg-related games (free to enter with ticket purchase!), this event is sure to not disappoint. Get your fix of lager, brats, pretzels, and lederhosen while experiencing what it's like (sort of) to live in Bavaria!
Tahoe City Oktoberfest - September 24 - Tahoe City
Can't get enough of Oktoberfest? Head over to Tahoe City for another Bavarian-style, lakeside Oktoberfest celebration. Costumes, microbrews, games, and crafts abound at this festival, and feature a number of family-friendly activities (like pumpkin painting!) in addition to the typical Oktoberfest adult festivities.
Downtown Truckee Wine, Walk & Shop - October 1 - Truckee
Join wine lovers and foodies alike for one of Truckee's biggest events of the year–the 19th Annual Wine, Walk, & Shop! From 12-4pm, wander around downtown Truckee sampling fine wines and local foods for the benefit of local north Tahoe non-profit organizations. Over 19 years, they've raised over $40,000 for a variety of nonprofits that benefit local families. Tickets include a commemorative wine glass for tastings, plus 5 food sample tickets, for just $65 when you purchase in advance.
Made in Tahoe Festival - October 8-9 - Olympic Valley
From 11:00am-5:00pm on October 8th and 9th, head over to the Village at Palisades Tahoe, located in the famous Olympic Valley, for all kinds of Tahoe goods! Vendors offering everything from food and libations to arts and crafts line the village, giving you the perfect opportunity to learn about and experience all things local. Between live music and all the offerings of the various Tahoe-based creators, you're sure to have a great time.
Share this:
---