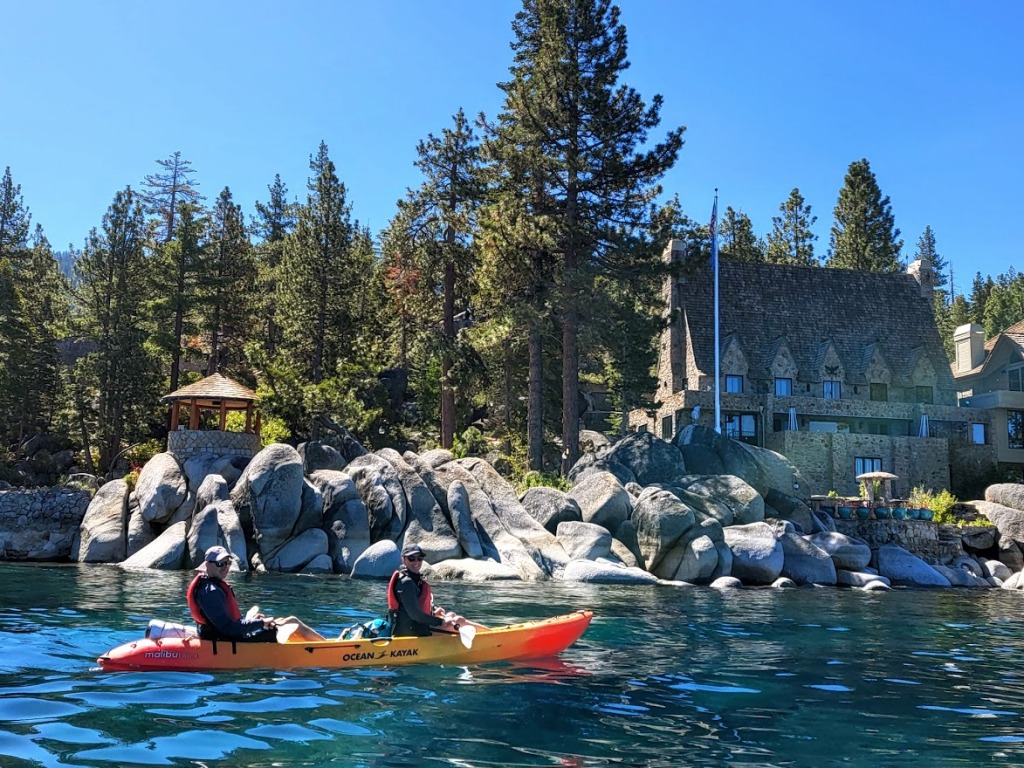 Come Explore Thunderbird Lodge with Tahoe Adventure Company
Category:
If you're seeking a unique and enchanting experience, look no further than Thunderbird Lodge, a historic gem nestled on the shores of Lake Tahoe.
Starting from the picturesque Sand Harbor, paddle out onto the calm waters and let the beauty of Tahoe surround you. Feel the cool breeze on your face as you glide along, mesmerized by the stunning panorama of snow-capped peaks and deep blue waters stretching as far as the eye can see.
As you paddle along, take your time to explore the magnificent shoreline of Lake Tahoe. Admire the tall pines and rocky outcrops, interspersed with sandy coves and hidden alcoves.
As you approach Thunderbird Lodge, a sense of history and charm emanates from its secluded perch on the eastern shore of Lake Tahoe. Built in the 1930s by eccentric millionaire George Whittell Jr., this sprawling estate captures the essence of a bygone era. Its iconic stone towers, terraced gardens, and beautiful sandy beach create a truly magical ambiance.
You'll have the opportunity to explore this architectural marvel up close. Take a guided tour of the property, led by our knowledgeable guides who bring the lodge's history to life. Discover hidden tunnels, secret passages, and the whimsical underground card room, which Whittell used to indulge in his love for high-stakes gambling.
The Thunderbird Lodge Historic Site preserves not only the lodge but also a collection of vintage boats, including the famous Thunderbird yacht, which was once the epitome of luxury and elegance on Lake Tahoe. This beautifully restored vessel recalls a time when socialites and Hollywood stars were whisked away on extravagant cruises across the lake.
While the Thunderbird Lodge is undeniably captivating, don't forget to savor the natural beauty that surrounds it. Breathe in the fresh mountain air and appreciate the breathtaking views of Lake Tahoe that unfold before you. After your tour, enjoy a deli style lunch looking out at the lake before paddling back to Sand Harbor.
Tahoe Adventure Company's Thunderbird Lodge Tour is an experience that combines the beauty of nature with a deep appreciation for history. From the moment you set out on the crystal-clear waters, you'll be enchanted by the stunning landscape that surrounds you. Exploring Thunderbird Lodge is like stepping back in time, immersing yourself in a world of opulence, eccentricity, and unparalleled natural splendor.
We can't wait to host your adventure.
Share this:
---