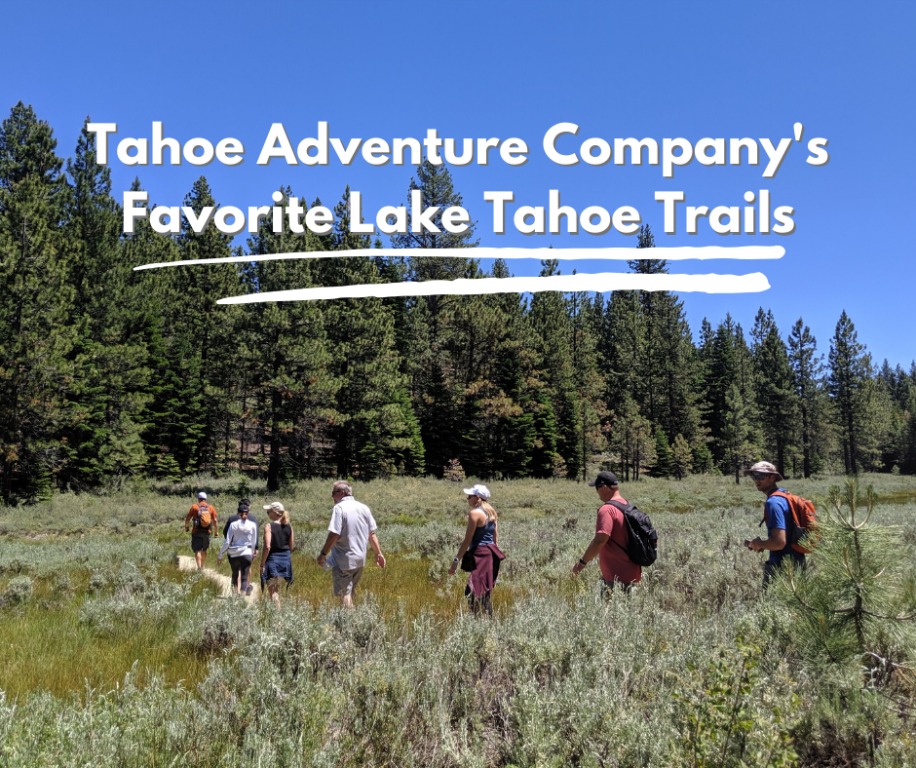 Tahoe Adventure Company's Favorite Lake Tahoe Trails
Category:
Our Favorite North Lake Tahoe Trails
Emerald Bay - South Shore
Easy | Out & back
Beginning at the Vikingsholm Parking lot and winding down a paved path to the famous Rubicon Trail, this hike showcases one of Lake Tahoe's most famous locations: Emerald Bay. The mostly easygoing trail takes you along the shoreline of the bay, with views across the great blue lake and up the steep mountain vista behind you. This is a great bang for your buck hike—see a lot without spending too much energy.
Granite Chief - West Shore
Challenging | Out & back
Between granite slabs, abundant wildflowers, rolling creeks, and stunning alpine views, this hike truly has it all! The Granite Chief trail is accessed out of Olympic Valley, so on top of stunning mountain views, you also get to peek over at the iconic ski resort famous for hosting the 1960 Winter Olympics. Featuring several waterfalls and a lovely, rocky creek, the trail winds up Shirley Canyon, a smaller valley adjacent to the famous Olympic (formerly known as Squaw) Valley. In the summer the valley is alive with wildflowers, and if you are hiking fast, the moderately strenuous hike takes you all the way to Shirley Lake where it's not uncommon for hikers to take a cold and refreshing swim!
Martis Peak - North Shore
Moderate | Out & back
If you're looking for a birds-eye view of expansive Lake Tahoe without working too hard for it, Martis Peak is definitely the trail for you. This trail features unbelievable views of the lake from a partly-forested trail that travels along a ridgeline, meaning not too much elevation gain and a family-friendly hiking experience. Also, on an out-and-back hike, you can always turn around whenever you want and not miss much!
Skunk Harbor - East Shore
Moderate | Out & Back
Looking for a swim at the end of a reasonably mellow hike? Skunk Harbor snakes down from Highway 28 to a small beach right on Lake Tahoe. After a short (1.4 mile) walk in the woods, the boulder-y beach unfolds beyond the forest, beckoning hikers for a quick swim and sunbathe before trekking back up the hilly shore to the trailhead.
Spooner Lake - East Shore
Easy | 2-3 miles | Loop
This mellow stroll around the quietly stunning Spooner Lake nestled in the hills above the Lake Tahoe basin is perfect for smaller children, older folks, and nature buffs! Among the beautiful aspen forest surrounding the lake, you can find wildflowers, wildlife, and even grinding stones left behind by the Washoe Indians.
Share this:
---