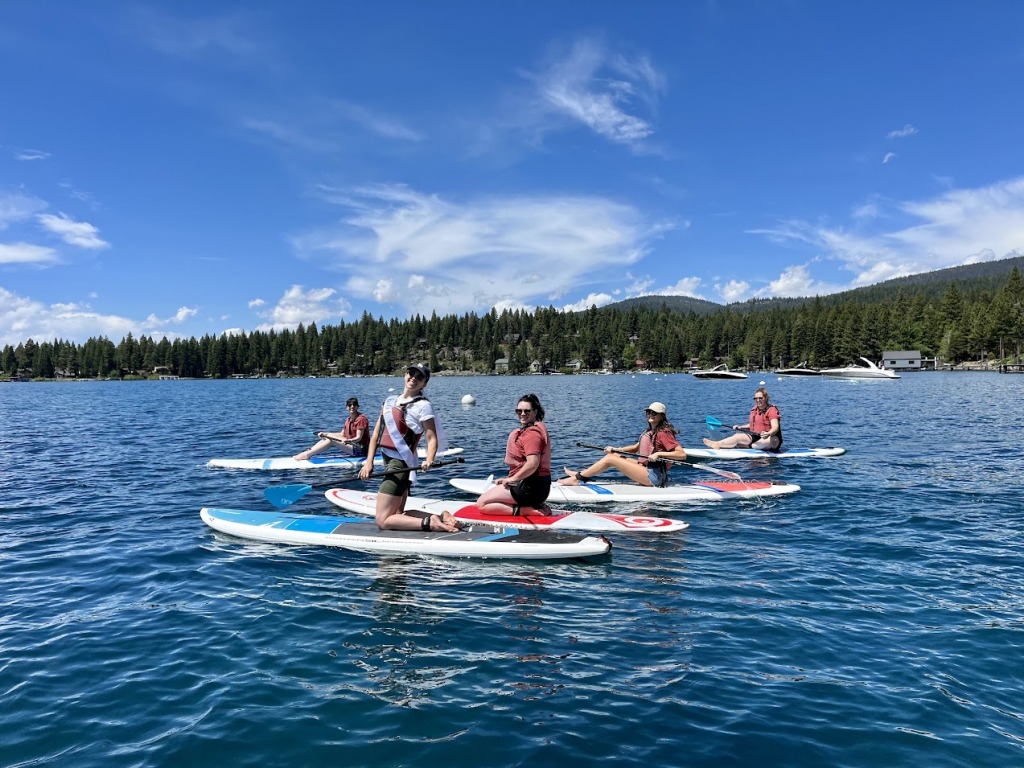 Paddle Into the Perfect Bachelorette Party: Kayaking (or SUPing) with Tahoe Adventure Company
Category:
Your bachelorette party is a once-in-a-lifetime event that deserves to be celebrated in a unique and unforgettable way. While the typical club scene or spa day may be fun, why not break away from the ordinary and embrace the extraordinary? Imagine paddling across the crystal-clear waters of Lake Tahoe, surrounded by breathtaking mountain scenery. If you're looking for an adventure-filled, nature-inspired celebration, look no further than kayaking with Tahoe Adventure Company. The ultimate choice for a one-of-a-kind experience.
Connection with Nature:
Tahoe Adventure Company is located in one of the most beautiful natural settings in the United States. Lake Tahoe's stunning blue waters and the Sierra Nevada mountain backdrop provide an idyllic backdrop for your bachelorette celebration. Kayaking allows you to immerse yourself in this pristine environment, offering a sense of tranquility and awe-inspiring beauty that's hard to match.
Unique and Memorable Experience:
A kayaking bachelorette party isn't something your friends will forget easily. It's a departure from the ordinary and a chance to create lasting memories with your closest friends. Whether you're an experienced kayaker or a complete beginner, Tahoe Adventure Company offers guided tours suitable for all skill levels, ensuring everyone has a fantastic time.
Active and Healthy Celebration:
Say goodbye to the traditional bachelorette party indulgences and hello to a healthier alternative. Kayaking is a fantastic way to get some exercise while having fun. Paddling across Lake Tahoe engages your core and upper body, giving you a unique and invigorating workout. Plus, the fresh mountain air and sunshine are sure to leave you feeling refreshed and revitalized.
Professional Guidance and Safety:
Safety should be a top priority on your bachelorette party, and with Tahoe Adventure Company, you can trust that you're in good hands. Our experienced guides are trained to ensure your safety and enjoyment throughout the adventure. We provide all the necessary equipment, including kayaks, life jackets, and paddles, and offer safety briefings to make sure everyone is comfortable and confident on the water.
Customizable Packages:
Tahoe Adventure Company understands that every bachelorette party is unique. That's why they offer customizable packages to suit your preferences. Whether you want a half-day paddle, a sunset tour, or even a combination of activities like kayaking and hiking, they can create the perfect itinerary for your group.
Photo-Worthy Moments:
Lake Tahoe's beauty provides the ideal backdrop for some seriously Instagram-worthy photos. Capture candid moments, group shots, and stunning scenery as you paddle along the lake. Your kayaking bachelorette party will be a feast for the eyes and a treasure trove of memories.
When it comes to planning your bachelorette party, why settle for the ordinary when you can have an extraordinary adventure? Kayaking with Tahoe Adventure Company offers a unique and unforgettable experience that combines nature, fun, and lasting memories. So, grab your paddle, round up your besties, and get ready to embark on a bachelorette celebration like no other. It's time to paddle into the perfect bachelorette party with Tahoe Adventure Company!
Share this:
---