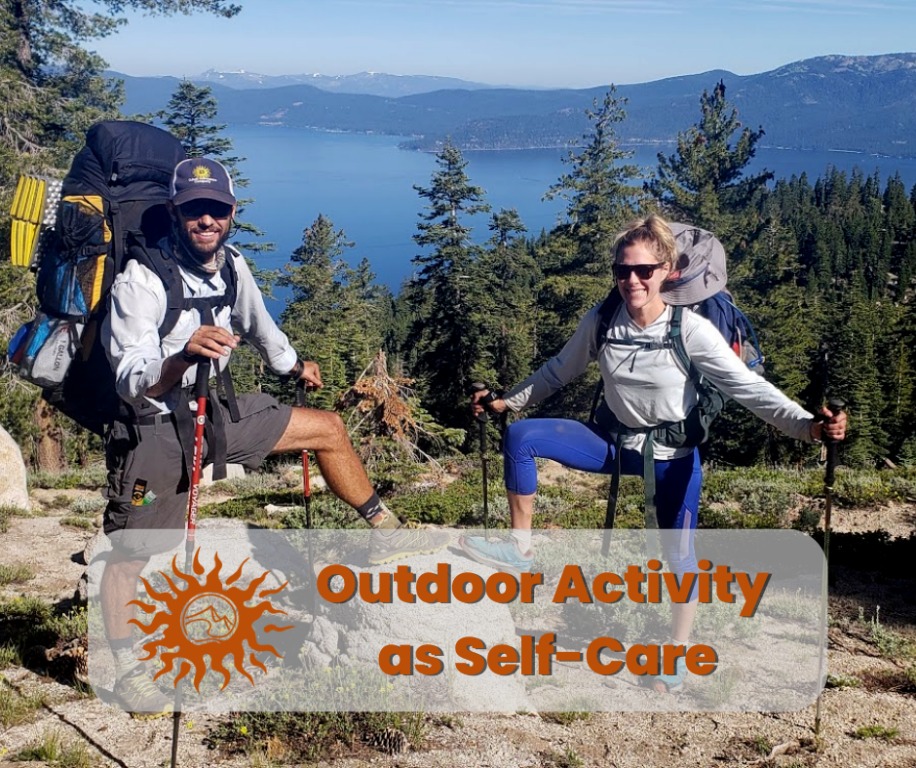 Why Outdoor Activity is the best form of Self-Care
Category:
In the past few years, the idea of "self-care" has taken off and people living stressful lifestyles have begun to invest more time and money into taking care of themselves. The self-care retail industry is predicted to be valued at $13 billion by 2026, showing astronomical growth since even 2019. It makes sense—work life has become more stressful, demanding after-hours work and blurring work/life balance boundaries due to the rise in working from home. "Quiet Quitting," when you only put in the effort detailed in your job description, is also on the rise: a staunch resistance to the corporate trend of rewarding hard workers with more work without more compensation. All this is to say that people are more stressed out than ever before, therefore more willing to invest in self-care and mental wellness.
Yet, when some think of self-care, they think of serums, face masks, pedicures, or expensive gym memberships (that they probably won't even use). These industries are built to make money off our insecurities: fears of aging, gaining weight, and other ways we may fail to achieve beauty standards. What if we looked at self-care differently; what if we approached taking care of ourselves through less expensive, more impactful experiences instead of shady products built to make you feel bad so you'll spend money?
At Tahoe Adventure Company, we believe in sustainable wellness, in access to the outdoors as a (if not the) key to wellness and mental health. We hope to be a jumping off point, inspiring human powered adventures for all, in the hopes that learning the ropes with us will motivate our customers to continue engaging in slow travel, natural activities, and adventure sports for their benefit.
It's well known that exercise is essential to both mental and physical health, but exercising in nature intensifies those positive outcomes. Outdoor activity such as kayaking, biking, or hiking, is proven to improve mood, reduce stress, increase self-esteem, and create an overall sense of satisfaction and contentment—and that's all after just one activity. When kept up consistently, exercise in nature can decrease symptoms of depression and anxiety, encourage the development of social support systems, and improve your physical health, which has its own mental health benefits.
When you've grown up in a city, spending time in nature can be intimidating—there are bugs, physical risks, and the threat of something going wrong when you're far from any help. Additionally, activities like mountain biking, kayaking, and even hiking can require expensive gear and baseline skill levels that can increase the barrier between someone who is looking for a mental escape and an enriching outdoor experience. This is why Tahoe Adventure Company exists: to connect tourists, corporate companies, and even locals to the great outdoors in the Lake Tahoe region. Our guides are all medically trained, we carry first aid kits and emergency communication devices, and we outfit every single tour with the appropriate safety gear. We have detailed equipment lists so guests can know what to expect. Our guides are also trained naturalists, packed full of natural and human history and ecological knowledge they're just dying to share with guests. We don't just offer tours—we offer experiences.
Tahoe Adventure Company specializes in high-quality, inspirational guided tours in the Lake Tahoe basin with a focus on enjoying the natural environment. The outdoor activities we offer are kayaking, stand up paddle boarding, biking and mountain biking, hiking, snowshoeing, and backpacking, and on top of that, we run team-building events for family reunions, friend groups, bachelor/ette parties, and corporate retreats. Our tours range from 2 hours to many days, and every experience can be customized to your group's ability level and desire to get outside your comfort zones. We can guarantee that a few hours in a kayak on Lake Tahoe will elicit these magical feelings of better mood and reduced stress, but let us plan a whole week with you and your life will be changed for the better. Even if you don't choose to go out with us, we hope you'll find a way to enjoy the outdoors without us; it's truly the most important piece of the self-care puzzle and we want it to be accessible to all!
Share this:
---