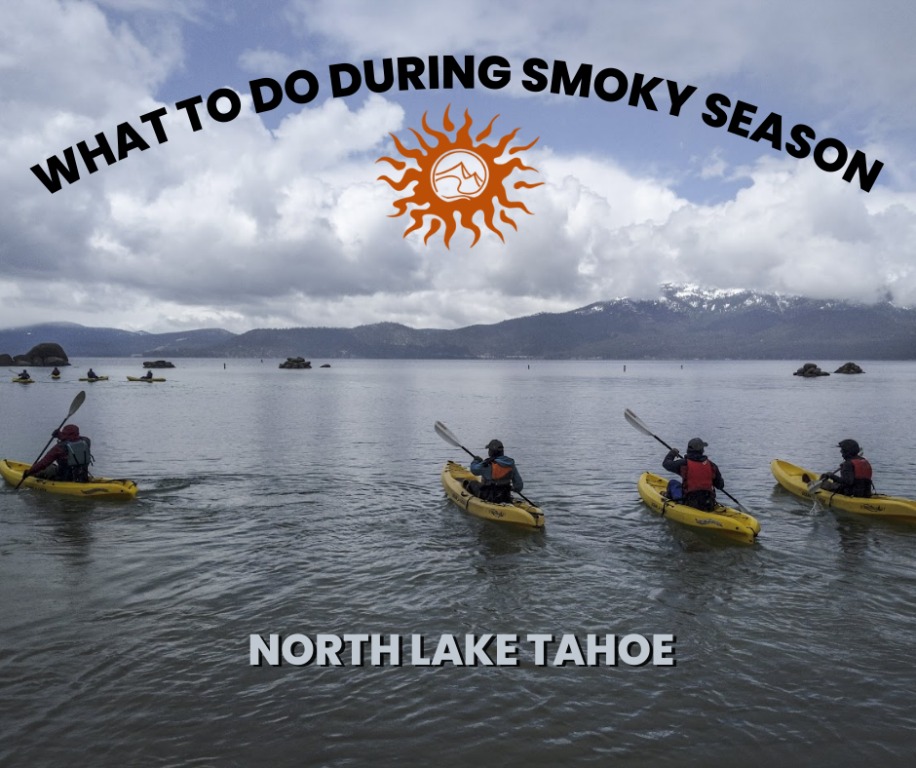 What to do During Smoky Season in North Lake Tahoe
Category:
Did you schedule a trip to Lake Tahoe, only to arrive to Air Quality Indices (AQI) over 150? Currently, smoke from the Mosquito Fire has settled into the basin, making it unsafe to recreate outdoors for long periods of time. Being an adventure company, nobody laments the lack of adventure opportunities more than us, but we've come up with a few things you all can do to keep yourselves safe and smoke-free on your Lake Tahoe travels!
Brew Tour
North Lake Tahoe is home to several amazing breweries that are sure to keep you entertained when being outside is less than appealing. In Truckee, there's Alibi, FiftyFifty, Good Wolf, and Truckee Brewing Company. Along the lake, there's Bear Belly in Kings Beach and another great Alibi location in Incline Village. These places are all great to visit on your own, but if you're looking to make a day of it (and avoid the designated-driver-drama) you can book a brew tour with Tahoe Adventure Company! When air quality is good, you might be able to get out kayaking from Tahoe Vista in the morning for an hour or two, followed by visits to a variety of breweries with flights included in the price of the tour! We worry transportation for your group as well, just call 530-913-9212 to schedule your tour! When mother nature has plans other than mountain biking and hardcore adventuring, there's nothing better than some brews with your buds.
Bowling Alleys
Bowl Incline has been the go-to spot for Bowling in North Lake Tahoe for 55 years and has just been renovated to be even better for your rainy or smokey day activities! Complete with a bar and diner with a Hawaiian spin, Bowl Incline is sure to satiate all your competitive family or friend group desires. They also have an Arcade with basketball games, PacMan, and more. Beyond Incline, Reno and Carson City both have tons of bowling alleys that are sure to show you and your group a great time.
Rock Climbing Gyms
Travelling with kids (or adults) that have more energy than can be spent in typical indoor activities? Check out High Altitude Fitness—the state-of-the-art gym has locations in both Truckee and Incline Village, and each location features a larger-than-life climbing gym. Day passes are $23 for adults and $20 for kids 13 and under, and a day pass for adults also allows access to the gym area and any fitness or yoga classes happening that day! You can also get a week pass for only $45, which includes complimentary climbing rentals for the week. Climbing is a great way to burn off some steam, improve your balance and fitness, and hang out with friends!
Gambling
While Truckee and the California side of the lake don't offer any gambling opportunities, just hop over the state line into Nevada and casinos abound! Between Incline Village and Reno, you could gamble all day and night and try your luck at winning some money, Vegas-style. We recommend setting a budget before you walk in and committing to it so you don't accidentally gamble away your savings, but enjoyed responsibly, gambling can be a great time! Many casinos even include free drinks when you're on the casino floor.
Stroll Around Town
Historic Downtown Truckee is full of adorable boutiques, stunning art galleries, and historic buildings and architecture. Even if you don't want to spend any money, perusing the various kinds of stores and galleries can be like wandering around a museum, appreciating all the local artists and artisans that work so hard to produce beautiful works that get displayed around town! Tahoe City also has a lovely main street that's fun to wander around, and even a movie theater where you can definitely spend some quality time indoors.
Arts and Crafts
When in Tahoe, you're meant to get your hands dirty! While you may have expected playing with river rocks, crashing mountain bikes, or hiking mountainous trails, you can also go to an arts and crafts studio to get that itch scratched. In Truckee, we have the Truckee Roundhouse, a makerspace with a wood shop, textiles studio, and even ceramics workspace. Check out if they have any short-term classes available while you're in town! In Northstar's village in Truckee, the Villager Candle Shop offers paint-your-own-pottery as well as soap and candle making! In Tahoe City, All Fired Up! offers a variety of crafts, including painting, pottery, candles, mosaics, and more and accepts drop-ins within business hours. For more planned-ahead groups like bachelorette parties or family reunions, Painted Rock Pottery and Mosaic offers those same activities, but they'll bring the party to you!
Thrift Shopping
If you're interested in vintage clothes or thrifting, there are many opportunities to flex that muscle in the North Lake Tahoe area! In Truckee, Tahoe Forest Hospice Gift & Thrift is a great spot to find used outdoor gear, Unique Boutique has all kinds of vintage clothing, and Adele's Attic is known for its luxury vintage and used designer wear. Pass it On in Tahoe City is great too for all kinds of thrifted items, and there are a handful of thrift stores in Incline Village as well. Above all, Reno is FULL of thrift stores, with several Goodwills, Salvation Army Thrifts, and other big-name stores, including a Goodwill Outlet with the famous "bins" where you pay by weight rather than item!
Museums
If you're looking for some smaller, but very unique museums, Truckee has the Museum of Truckee History, the Truckee Railroad Museum, and Old Jail Museum which are all super interesting museums detailing the rich history of this area. There's also UC Davis Tahoe Science Center, which teaches all about the Lake and the various scientific methods used to study it, as well as the wonderful things we've learned about the gorgeous lake so far.
It may feel like Tahoe is only a place to do outdoor adventures, but it's also a place rich with commerce and history! Don't let the smoke stop you, but if you decide to postpone your trip to another time, make sure to check out Tahoe Adventure Company and all the incredible tours we offer once the weather gets better!
Share this:
---