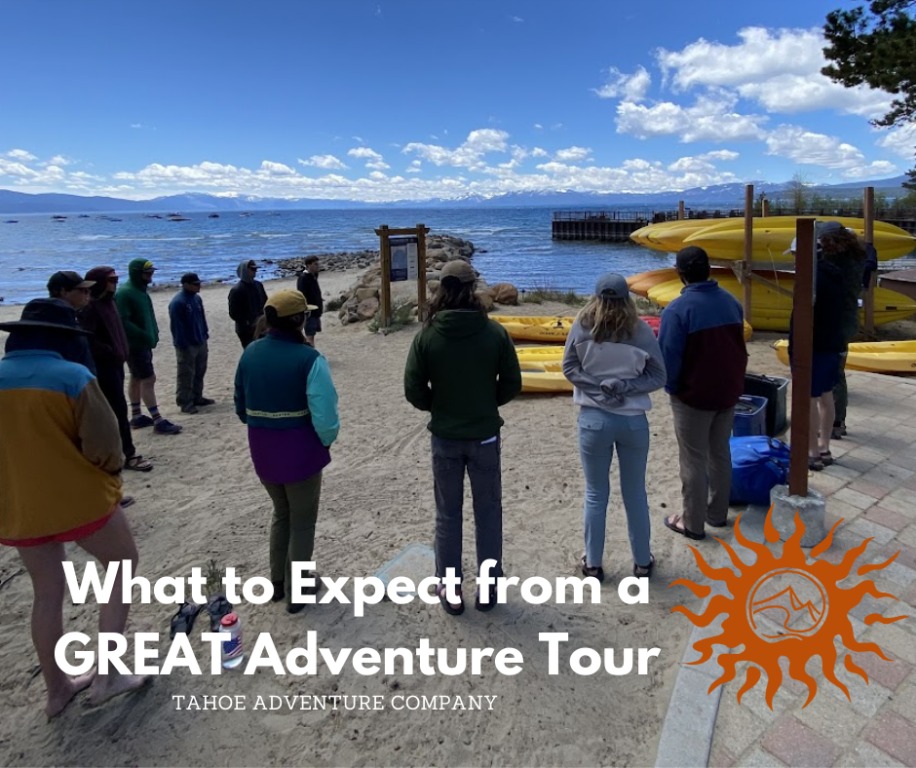 What to Expect from a Great Adventure Tour
Category:
For every adventure tour you book, whether it's a Lake Tahoe tour or otherwise, there are 5 main components: the booking process, prepping for your tour, arrival and orientation, the actual tour itself, and the wrap-up process. If you do a lot of adventure tours, you know this already, but if not—here's what to expect so you can know if your tour was meh, average, or stellar!
Booking Process
Most people these days will book kayaking Lake Tahoe tours online, so tour companies should have easily navigable websites with prices, tour times, and what to expect front and center. There should be a summary for folks that want to take a quick look at the details and book right away, as well as a more detailed description for those of us that like to be as prepared as possible for what we're signing up for. Tahoe Adventure Company's website has both—the bright orange book now button on the home page takes you directly to the booking portal where you can easily see price and duration of each tour, followed by more information (description, timing, price, difficulty, location) once you click on the tour itself. That's without even clicking through the website! If you're more detail-oriented, you can go to the main tour pages and even see a comparison chart to help you decide which tour is right for you.
While online bookings are the most common in this time era, many people prefer to talk through their options before making a decision. Tahoe Adventure Company's phone line is active from 8:30-5:30pm ready to answer your questions and even complete bookings and payments over the phone! If we don't answer, please leave a message and we will get right back to you—there are days where our phone is ringing off the hook! Remember that good customer service doesn't just mean that we answer the questions you call with—we also make sure to answer the questions you may not have thought yet. If you're feeling overwhelmed with all the options, you can even call with a vague idea, and we can help select the perfect tour for your group!
Tour Prep
After you book your Lake Tahoe kayak tour (or tour anywhere else!), there should be clear communication on where and when to meet, what you'll need to bring, what's expected on the tour, and any other details that are relevant for that tour. This also applies to Lake Tahoe kayaking or paddle boarding rentals as well! Working in the office, I'm always so surprised by how many people show up at the wrong place or the wrong time for their tours—it's the tour company's job to make sure you have that information, but it's your job to make sure you look at it and plan accordingly! Do your part too and remember that if you miss your tour, it's not the tour company's responsibility to refund you. Tahoe Adventure Company sends two confirmation emails—one when you book and one two days before the tour. This includes time, location, and duration of tour, parking, as well as what's included and what the guest is responsible for. For the people who love detail, it's got tons of information! For those who just want to show up and have a good time, all the important things are bolded at the top.
Arrival and Orientation
Good tour companies make it extremely clear where you're meant to go once you arrive to the area. We have a 10 ft flag out on the street that screams "KAYAKS AND SUPS" with our sun logo bright at the top. We also have a big banner on the side of our shed that faces the road, and you'll know you're in the right place when you see a white pop-up tent and tons of bright yellow kayaks! When you find the tour location, you should be enthusiastically greeted by your Lake Tahoe guide, checked in, and directed on what to do while you wait for the tour to begin. With any adventure tour, there are risks, so a safety education talk is imperative. These should be short and sweet, covering the best ways to avoid emergencies and what to do if one does occur, but not going in too much depth for fear of losing the guests' attention. Ideally, there are only about 15 minutes between the guest arrival and heading out onto the water!
The Actual Tour
The quality of an adventure tour depends entirely on what you're looking for as a guest. Do you want someone to hang out with your group quietly, only answering questions as they come up? Do you want your guide to tell you their life story? Do you want to learn everything there is to know about the region and natural surroundings? The absolute best way to make sure your expectations are met on a tour is to communicate them with your guide—asking good questions and letting your guide know what you're hoping to gain from the tour is essential to a good tour experience. If they don't know what you're expecting, how can they meet your expectations? Great guides also gauge guest ability and make sure to stop often for breaks if needed—remembering to stop long enough that even the last members of the group get to rest.
Wrapping Up
The best adventure tours leave you with something special to remember—maybe the guides took photos of the tour, maybe there's a cool piece of merchandise they offer, maybe they send you off with a snack or drink to fuel the rest of your day. For example, after an evening kayak tour with Tahoe Adventure Company, the guides set you up with warm hot chocolate or apple cider to warm you up after you've been out on the water past sunset. What an incredible way to solidify the memory of your sunset or full moon tour!
Overall, what a "great tour" is depends on what you're looking for, but at Tahoe Adventure Company, we want you to get the best experience possible, regardless of which company you book with. We have our ways and are open to feedback on how to make them even better. If you had a bad experience with an adventure tour, let us know your thoughts! We're always improving!
Share this:
---