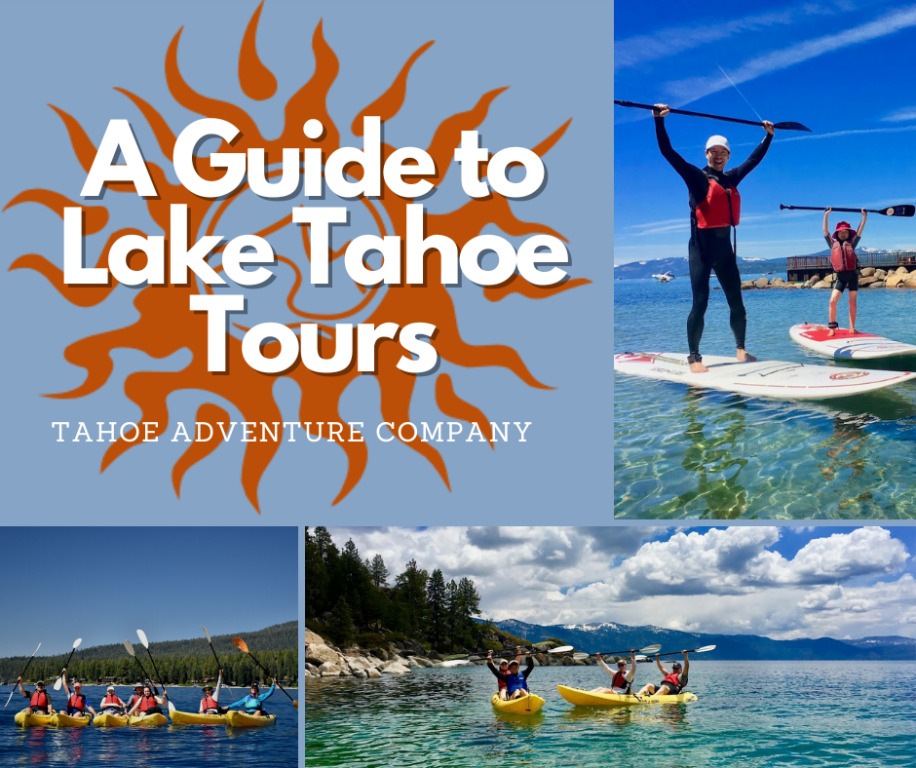 A Guide to Lake Tahoe Tours with Tahoe Adventure Company
Category:
This blog post is an overview of the most popular kayaking and paddle boarding tours that Tahoe Adventure Company offers--take a look to get a good idea of where each tour goes and the goals it accomplishes. I hope you'll be able to find the best fit for you and your travel buddies!

North Shore Kayak or Paddle Board Tour
10am-2pm, $95 each, lunch included, ages 8+.
This 4 hour tour is the best way to see Tahoe's North Shore–get a paddle lesson at the beautiful Tahoe Vista Recreation Area by an experienced, knowledgeable, and frankly just really cool guide. Once they give you the run-down on how to use your kayak or paddle board, everybody launches from the beach, just steps from the meeting area, and the adventure begins! If the winds are blowing west, you'll head east across the beautiful Agate Bay, catching views of Kings Beach and the many sandy recreation spots on the North Shore. Surrounded by mountains and dense forests, there is more to look at then you'll know what to do with! If the group is paddling strong, you might even make it to the boulder fields at Speedboat Beach near the Nevada state border. If the wind is blowing east, you'll head west across Carnelian Bay towards Waterman's Landing. This is a super popular area due to the famous and fancy Gar Woods restaurant (Tahoe Adventure Company has a tour that takes you there!), and the altogether stunning views of the crystal blue lake and surrounding mountains. At some point along the way (no matter which direction you're paddling), the group stops at one of the Tahoe beaches and your guide will whip up a delicious deli lunch and ice-cold drinks for your enjoyment. The beauty of paddling upwind to start is that after lunch, you get to cruise back to Tahoe Vista with the wind at your back. If you want, you can spend the rest of your day on the sandy beach at Tahoe Vista Recreation Area and just relax, soaking up that late afternoon Sierra sunshine. There's nothing better in the world!

Discover Kayak or Paddle Board Tour
10am-12pm, $65 each, ages 6+.
This 2 hour guided tour is the perfect introduction to paddle sports! Starting and ending at the same spot as the North Shore tour, you're bound to see much of the same sights, but this tour is geared up more as a lesson for those hoping to dip their toes in the (literal and figurative) water of kayaking or paddle boarding. Your guide will give you all the tips and tricks on how to be a better paddler, plus a ton of really interesting information about the natural and human history of the Lake Tahoe basin and lake itself. Perfect for kids (6+), beginners, or even just those traveling on a time crunch.

Sand Harbor Kayak or Paddle Board Tour
8:30am-12:30pm, $109 each, snacks and drinks included, ages 8+.
This East Shore morning tour begins with a group transfer from the Incline Village Visitor Center to Sand Harbor state park–sound like a drag? Way less of a drag than waking up at 4am to get there before the parking lot inevitably fills up and blocks traffic both ways! The shuttle is only a few minutes long and saves you the hassle–not to mention our guides do all the heavy lifting to get the boats into the water for you. Sand Harbor is an incredible kickoff point to explore the East Shore of Lake Tahoe–if you're visiting to explore travel bloggers' or instagram influencers' photo spots, you've chosen the right tour. There are regal boulder fields with granite rocks towering over you in your kayak. There's bonsai rock, a little island with a little tree that is definitely a photography hotspot. There are all kinds of secret coves and private beaches only accessible by boat where you can hop out, relax in the sun, soak in the moment like a basking lizard. After 2-3 hours of paddling and exploring the crystal blue waters, you'll head back to the Sand Harbor beach, watch your staff haul all the boats back on the trailer while you enjoy a cool drink and yummy snack in the shade, then everyone heads back to Incline Village to get your cars! It's a SPECTACULAR tour with a maximum of 12 people so make sure to call ahead as they fill up quickly!

Thunderbird Lodge Kayak Tour
8am-2:30pm, $169 each (includes $50 donation to the Lodge), lunch included, ages 8+.
This tour is juuuust like the Sand Harbor tour, but with a twist (and lunch!). Just like the Sand Harbor kayak or paddle board tour, the Thunderbird Lodge tour starts and ends at the Incline Village Visitor Center, heads over to Sand Harbor, and gives you a few hours to paddle around the East Shore. The difference is that after a few hours, you get to hop out, put on some dry shoes, and get an exclusive walking tour of George Whittell's home (read: castle) nestled in the forest on the East Shore. If you're coming to Tahoe without knowing who George Whittell was, your first task is to google him. Done? No? Fine, then here's a run-down: the famous George owned a huge portion of the Nevada side of the lake–his dream was to build a slew of luxury travel resorts–but he passed away without ever realizing that goal. Luckily for us, this means that a huge amount of Lake Tahoe's shoreline was unable to be developed, and is now mostly owned by the Nevada State Parks system. The Thunderbird Lodge, his not-so-humble abode, is one of the only buildings on the stunning East Shore of the lake. This tour is extra special because we are one of the only companies permitted to take our guests in and around the lodge–our guides are trained docents and have more history and information to share with you than you probably even want to know. After the walking tour, you'll paddle over to one of the many stunning sandy beaches in the area, eat a delicious sandwich and drink cool drinks, then meander back to Sand Harbor to wrap up your day. This is one of our most popular tours and is only available on Tuesdays (unless your group is bigger than 20), so make sure to plan in advance and secure your spot!


Whether you're looking for introductory or family fun, a full day North Shore excursion , an East Shore exploratory tour , or a historical and stunning all-day adventure , we are sure you'll be able to find something great for you and your group. To book, just head over to the Water Adventures page on the website, or call at 530-913-9212 to speak with the amazing office staff who can help you find the best tours for you. Don't forget that Tahoe Adventure Company does more than just kayak tours and paddle boarding tours on Lake Tahoe–they can also take you on mountain biking tours, hiking tours, and even multi-sport tours with kayaking or paddle boarding in the morning and hiking or biking in the afternoon! Visit tahoeadventurecompany.com for all your Lake Tahoe tour needs!

Share this:
---